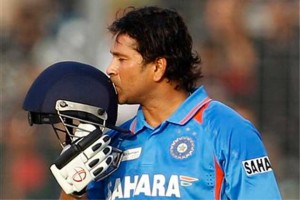 Note: This is a Guest Post by a very good friend of mine Alapan Ghosal last night he sent me this post.I am just posting this on the behalf of him.Here it goes:
Sachin's 100th 100.Last year for an Indian cricket fan has been frustrating by part & dismal for the rest of it.
We have been pounded & grounded into submission by a couple of teams we have had thoughts of beating,if not easily then by some perspiration but the ugly truth has been clubbed repeatedly & painfully over our heads over the whole of last year.
Now we stand duly chastised & humbled,by the virtue of our teams performance While in midst of this travesty lies the mysteries of Sachin's 100th 100.
Why couldn't he get it over a period of 365 days??
Why couldn't he pound the Aussies & the poms??
why did he get out repeatedly making silly mistakes or Why did the balls get better of him…..
Probably if he would have had the 100th against either Aussies or the poms we would have had consoled ourselves that our hero defied the opposition & his teammate's mediocrity & rose above it.But as things stand we have been stripped of even this consolation.
Our hero has been repeatedly struggled to put bat on ball & found ways to get out the last of which involved trying to flick Malinga of his pads from closer to middle than leg.He started both the tours with decent form & got a few middling scores with amazing regularity & just when the stage seemed to be set for him,got out.
I don't know why he got out & I don't particularly care much.
But I would like the Sachin of old to make a comeback where nothing seemed impossible.Where he could make me smile exclaim & sigh over a coverdrive where he could right all the wrongs of the day.I would like him to treat every bowler as Henry Olonga(remember Sharjah 97 I think you can)
I would like him to pummel every opponent.I would like him to be my childhood hero again….
I would like him to be best batsman on current form ever & always….
I would like him to be grim determined & victorious….
When even hardened pros like Mcgrath & Warne had to clap when he made them look foolish….
I would like him to be the guy for whom bunking classes & a punishment didn't matter much for a student….
I would like him to chase all the dreams that have  remained unfulfilled among billions of us….
Yes I admit, I would like the boy from Sharadashram Vidyamandir to appear as good for each & everyone of us and today he finally managed to scale the statistical impossibility a century of centuries….
Where he scored practically flawless 114 runs from 147 deliveries,but it didnt give me much satisfaction,where he slowed down after 80,where he struggled to get gaps,where he was made to perspire by a pedestrian attack,where inspite of being best batsman on show,He cost us 20 runs.
Before he makes a final bow & before a curtain drops over innocence.I would like my hero to comeback once again just for a last glimpse the men who made everyday worth it.Three of the golden age have already gone taking a part of my childhood with them.Men of tremendous dignity honour & commitment who made cricket worth watching.Men whom you & I miss everyday but I wud like to see him at his very best just once before he goes.I would like him to punish a full length delivery by drilling it straight past the bowler.I would like him to be God of all batsmen who ever came & of all those who are yet to come.Just before he goes off into the sunset, just once,I wud like him to be my childhood hero yet again.
Image Courtesy: Cricketnext.in.com
First of all: I AM NOT RESPONSIBLE FOR ANY DAMAGE DONE, PROCEED WITH ROOTING AT YOUR OWN RISK
I tried to do it in windows 7 and it was not working for me.May work for you in windows 7 but I recommend to use windows xp operating system while rooting.
Download the below required softwares:
Revolutionary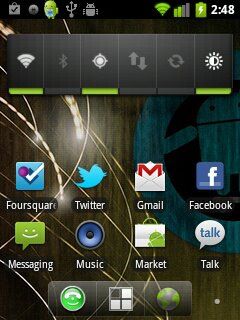 Through out the procedure keep USB debugging enabled.
Step 1:
First you need check what hboot version you have in your wildfire, turn off the device, when rebooting hold the power and volume down button together.If you are in Froyo and Hboot version is 1.01.002 then first you need to downgrade your hboot version to 1.01.0001
This is the step to downgrade hboot:
a)Uninstall HTC Sync and install HTC driver(available in buzz downgrader folder)Extract buzz downgrader in a newly created folder.
b)Run adb.exe (phone need to be connected in 'charge only') and then run step1.bat as administrator wait for completion.
c)Phone need to be mounted as Disk drive,make sure memory card is inserted in the phone.Run gold card.exe as administrator.Click on the 'Get CID' button button and wait for completion.Copy the "Reversing CID" not the normal cid.Click on the "Gold card generating link" a web page will come give email address and paste the "Reversing CID" into the SD serial box and they will send you the .img file.Download the .img attachment.
Get back to the Gold card tool load the the goldcard.img click refresh to select your phone's mirco SD card.Now press "Patch MMC" if errors are there then try again otherwise your Micro SD is compatible.
d)After completion close the gold card tool and and put your phone back to 'charge only' mood.
e)Now run step2.bat as an administrator.If error are there then try again otherwise try again.
Now check the Hboot version whether it is 1.01.002 or not.If it is 1.01.001 then you are done with step1 else you have missed something and try again.
Step2:
a) After downloading revolutionary a web page will come fill in the details by selecting your phone model and giving phone serial no.If you give the details correctly you will get a unique beta key.Copy this key.
b)Launch revolutionary.exe and when asked for type the beta key you obtained from last step.  Wait for the completion and when asked for question type "y".
c)Wait for completion in this time phone will reboot couple times.When done with this procedure turn off your phone reboot phone by holding the power button and the volume down button together.if you see the word revolutionary highlited in pink then you are successfully done with step2.
To know what Revolutionary does refer this Link
Step3:
Make sure you have uninstalled HTC Sync and HTC driver before this doing the Step 3.
a)Download USB drivers and extract them on desktop. Turn off your phone and boot into HBOOT by holding the VOLUME DOWN + POWER button. Connect your phone to your PC and it will show "drivers installing" .When prompted , install the drivers by going to device manager and browsing to the folder where you extracted the drivers. Once installed, disconnect and reboot your phone normally.Once done you will see your phone recognized as "Android bootloader interface".
b)Now we will downgrade your phone from Froyo(2.2.1) to Eclair(2.1).Download the RUU ROM downgrader(Link given in the starting).Set your your phone to charge only and double RUU rom.exe.Follow the on screen instructions and then let it install.After completion your phone will reboot to 2.1.The HBOOT version would be now 0.80.0002.Disconnect your phone
c)Download unrevoked (Link given in the starting) Run it and connect your phone.After this rooting will start and wait for  completion. Now Clockworkmod recovery would be installed on your phone.Reboot your phone-volume up/down button is for navigation and power button takes you back to the menu.Once rebooted you would be able to see superuserapp in your wildfire and your phone is now rooted.
Installing Cyanogenmod 7:
Download the latest version of Cyanogenmod (Link given in the starting) and get the information about latest developments here in Cyanogenmod Wiki
1)Transfer the downloaded zip file into your phone's SD card.
2)Reboot your phone into ClockworkMod Recovery(booting by holding the VOLUME DOWN + POWER button and clicking on recovery)
select option data/factory setting.
select wipe cache partition.
select install from memory card.
select choose zip from sd card.
select the particular zip file and let it install.
select choose zip from from sd card.choose the zip file and let it install.Once the installation has finished, get back to the main menu by clicking the POWER button and select the Reboot system now option.
Now your should boot into Cyanogenmod.Enjoy custom ROM.
Here are the few fine tunes I would like to see in Social sites.
1.First of all my recent fav foursquare,Well we do CHECKIN in foursquare.But I would also like to have CHECKOUT option in foursquare.So that we can keep track when a person is checking out from that particular place.
2.Few modification in Twitter:new style RT like in TweetDeck,they are integrating the new style RT in the mention column likewise if Twitter scrap the "Your Tweets,Retweeted" section from Retweet and integrate to @mention section then can easily keep track of the RTs that we are getting(by only checking the mention section).
3.As Twitter incorporated the new style RT button to web,it would be better if they also include the old style RT button to the web.Because for me most of the time I use old style RT.
4.Few things we don't have as an Indian User:
a)In US foursquare mayors get special discount in the respective restaurants.Yet to come in India.
b)Geo Tagging still not available for Indian Twitter web users.
c)Local trending topic still not available for India(Available for countries like: Brazil,Canada,Ireland,Mexico,UK,US)
5.Do you know one good example of one way travel? Its facebook text service in recent times.Facebook text delivering the notifications alright in mobile but we are not allowed to post through text.Its a very important service for me because may I am not having GPRS all the time.
6.Well for Orkut,As I seldom visit Okrut,so apart from Scrap notifications in mail I would like to have facebook type of notifications in Orkut so that I don't have to miss anything.As we simply can't ignore orkut totally as most of our friends are in Orkut.
Do you have any other Wishes then please share with me in the comments.Would love to read your opinions.
Thanks.
Yes writing a blog post after a long period and from a new place.This is my first blog post from the city of joy-Kolkata.Hope that I will get time or will be able to make more time for me to write blog posts.Yes it is all about managing your time schedule,I do believe that no person in this world is so busy that he/she can't be regular in blogs or he/she can't date or hangout with friends.Its all about your wish and your eagerness.
I have joined a company,its my first job,trying to settle down in a new place.I am missing my home,my birth place,the pleasant weather of Siliguri, my friends and those hang outs with them in YMA,my all day long chatting and tweeting habits,my favorite TV shows and live cricket matches and the most I am badly missing my parents.But this is life you need to move on.Things which I am liking about me that I am getting along with new people very well which was lacking in me in last few years.I am lucky to have few friends here who hate to stay home in weekends 😛 .
Just came know this so true quote today

Those who have not yet accepted their own imperfections are the first ones to judge and criticize the faults of others.
Yes I am accepting my fault that I used to judge people too much that's why I failed to get along with new people.Really my dear friend stop judging people,this life is too small to judge people near you.If you keep judging the person near you when you will gel with that person?so stop judging people and get along.You don't have the rights to judge others and so do I.
Hope this "City Of Joy" has lot to offer me.I have only one life and I am trying to live it king size. 🙂
Thank you.
I am writing about yesterday and yes it was one of those when you fill touched,surprised,amazed by the fact a friend is there and that friend really remembered you and wished you in the auspicious occasion.Well I am not good with words and expressing my feelings as I am more a technical person (Girls reading this post don't you worry I am a full on romantic person 😛 ) but jokes apart,yesterday it was Holi (the festival of colors here in India) I have not played it but a friend really made my Holi special by remembering me and also by a token of friendship.
Well a friend of mine used to say that someone is your true friend when you met that person after ages and then you both just get along and without dragging on the fact that why you both were not in contact/not blaming and asking the other person why you were not maintaining the contact by any means.To me a person gonna be you true friend if at your first met or in your first phone call with him/her you get along very easily and started playing pranks  without any hell lot of introductory speeches.
and who said that you can't get good and real friends in virtual online world?2009(and also the starting of this year) was a year of getting very good friends for me .Came to know some(not much but yes few) amazing people through Twitter and Facebook and yes they are now my close friends in real life too.
If you read About me in this blog you will come to know I have very few friends and they always played a major role in my life.I know my good old friends are with me and but I also do hope that my few new friends which I got they would be also with me and they would get me whenever they need me.
Wishing you all Happy and Safe Holi.
Thanks for being my friend 🙂
My College friend Soumyadeep who is a massive football freak used to ask me Why I am not writing anything about Cricket here in Denken that time I told him that I will write but it would require a special moment.Well my close friends and family members know how Cricket freak I am.This my first Cricket post on my blog.Wrote a lot about me/Social networking sites/Tech topics but this is time just could not resist myself to write post about Cricket and about our Little Master SACHIN RAMESH TENDULKAR.Really it took a knock like that caliber from Sachin to get the Cricket side of me on my blog.
If you are regular Tweep then you should know that there is a #Tag for Sachin which is #SachinIsGod and its so true because If Cricket is religion in India then surely #SachinIsGod.
My Tweets:
#MyNameIs Sachin Ramesh Tendulkar and I am the greatest ODI player ever.
All Day I Dream About Sports(Adidas) is the perfect makers name for Sachin's bat.
Let me tell you why this knock is so special:
1.First ever double hundred in ODI.
2.Highest individual Score in ODI beating previous best of  Charles Conventry's(Vs Bangladesh) and Saeed Anwar's(Vs India) 194.
3.He ran through out his innings with out any runner.(Saeed Anwar used runner).
4.It was a perfect innings because no drop catches or no getting out in no balls etc.
5.Innings came against a top quality fielding and blowing side(ICC no 1 Rank bowler is in South Africa's squad).
Well previously we used to remember Sachin who gave as Titan cup by bowling in the last over,the guy who used to come in Shane Warne's nightmare,for his destructive innings at Sharjah,the most run getter in world cups but this knock is something special and which will remain in memory forever.It was a true fact that sometimes Sachin failed to come good in final but in recent times he played some match wining innings in finals,most recently his two crucial knocks in final helped us to win VB series,which is to me India's most important ODI tournament win in last decade.You have to admire Sachin's everything,Mostly his dedication towards game and his stamina to cop up with pressure.As Ravi Shastri said correctly Sachin is the most Greedy boy in cricket field.You just have to admire how Sachin came back after his Tenis elbow and back injuries(these two injuries almost ended his cricket carrier).At that time of  Tenis elbow Sachin once said that there is power is his elbow so its just that his dedication towards this great game that inspired him to come back with a bang.
Ending this with a hope that Sachin would get his 100th International century very soon and also that the stage:-"2011 world cup  final in his home ground" is all set for him to pick up the trophy for all of us Indian 🙂
Thanks.
Yesterday I got this all new Buzz in my Gmail.
You can follow me in buzz: http://www.google.com/profiles/aritra.slg
This is the third product from Google in a row after New Orkut and Google Wave.Recently Google also integrated real time Twitter updates in its search engine.So after Twitter integration,Google wave and now with Buzz you can say that Google trying hard to get into this real time business.
So what is this Buzz is all about?
Its a real time section which is integrated into you Gmail and it is mainly to share your status updates also your favorite links,images,videos with your friends.
Connected sites: Shared contents from Google Reader,Twitter updates,Image sharing sites like:Picasa and Flickr,Updates from your Blogger and You Tube accounts.
Following:Comes with same Twitter concept like you get the updates from people whom you are following.But here Buzz comes with auto following and also suggests you users to follow.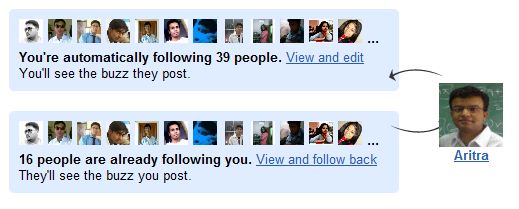 Private and Public sharing: You can share contents with either everybody or with your few selected friends i.e a group.You can create several Groups in your Google contacts.I prefer private settings for my Picasa and flickr accounts.
Comments and Like:You can comment under status updates and also can like any status update by pressing the like button.
@Reply or Tagging: Another concept from Twitter like you want to mention or tag any user or multiple users in status update area or in the comment section area.Just put @ then start typing the name you would get a drop down  for the list of users.
Inbox integration:Buzz just does not want you to miss any comments that is why it will give you notifications in form of mails in your Gmail inbox itself.I would have liked a different section for this notifications because cleaning up inbox every now and then is not my favorite work.
Mobile Support: iPhone users and Android users can access Buzz in their in their mobile handsets through Buzz.Google.com.Still no other handset supports Buzz.This is where buzz lacks.The main reason for Twitter's popularity was that at first Twitter targeted mobile users and it also allows you to update status through SMS which is still not available in Buzz.You can also post Geo tag enabled Buzz from Google Maps.
My verdict is that I like Buzz because I love sharing my status update,Links etc and Buzz looks to be a great sharing platform for us.
So do you like Buzz,Would you use it more regularly?Share your views in comments and do share with us which feature you like the most or what are the features you want to see in Buzz?
Thanks.
On January 27th Apple launched it's much awaited tablet iPad.It came after one year long speculations.It will be available in market from March(Still I don't have any idea when iPad would be available in India).Well that night when I was tweeting my timeline was only(almost) with Apple events live tweets and out of the top 10 trending topics there were seven related to iPad and ongoing Apple event.Later I came to know that there were 177,000 tweets in the first hour during the event.
Well Steve Jobs describes it as "Our most advanced technology in a magical & revolutionary device at an unbelievable price".They says that its 9.7″ touch screen tablet which is here to fill up the gap between Macbook and iPhone.
Let me first discuss about the price.There are 6 models like:
16GB:- $499(wifi) and $629(wifi+3G)
32GB:-$599(wifi) and $729(wifi+3G)
64GB:-$699(wifi) and $829(wifi+3G)
Here are features that you will get in iPad:
9.7″ LCD touch screen.
10 hours battery life(If you are playing video) and 1 month standby time.
Bluetooth.
In built web browser
Email client.
You tube client.
The screen has IPS(in plan switching) which helps to give better visual effects when you are not looking at it as a flat screen.
Model comes with 3G and Wifi facilities.
Photo viewer with geotagging and slide show features.
Inbuilt music player which is more likely to iTunes and also iTunes store.
Maps,Calender, Address book.
Movie plays with an aspect ration of 4:3.
Supports all iPhone applications and also you can synchronize iPhone and iPod with this iPad.
A paint application.
iBooks: Apples own ebook application.
iWork: Too build presentation and spreadsheets etc.
iPad can also be synchronized with projector and desktop.
Here are few features which are missing in iPad:
You can not do multitasking.
iPad does not have any USB port or SD slots.
No drag and drop of files.
No flash support.
No camera which is the most disappointing thing for me because it discards video chat/conferencing and you can't take pictures and upload it to facebook/flickr.
Wifi version doesn't have GPS and 3G is not with full GPS.
Though they says its to fill up the gap between Macbook and iPhone but I don't see its use if you have both a laptop and a smart phone.
Thanks