Here are the few fine tunes I would like to see in Social sites.
1.First of all my recent fav foursquare,Well we do CHECKIN in foursquare.But I would also like to have CHECKOUT option in foursquare.So that we can keep track when a person is checking out from that particular place.
2.Few modification in Twitter:new style RT like in TweetDeck,they are integrating the new style RT in the mention column likewise if Twitter scrap the "Your Tweets,Retweeted" section from Retweet and integrate to @mention section then can easily keep track of the RTs that we are getting(by only checking the mention section).
3.As Twitter incorporated the new style RT button to web,it would be better if they also include the old style RT button to the web.Because for me most of the time I use old style RT.
4.Few things we don't have as an Indian User:
a)In US foursquare mayors get special discount in the respective restaurants.Yet to come in India.
b)Geo Tagging still not available for Indian Twitter web users.
c)Local trending topic still not available for India(Available for countries like: Brazil,Canada,Ireland,Mexico,UK,US)
5.Do you know one good example of one way travel? Its facebook text service in recent times.Facebook text delivering the notifications alright in mobile but we are not allowed to post through text.Its a very important service for me because may I am not having GPRS all the time.
6.Well for Orkut,As I seldom visit Okrut,so apart from Scrap notifications in mail I would like to have facebook type of notifications in Orkut so that I don't have to miss anything.As we simply can't ignore orkut totally as most of our friends are in Orkut.
Do you have any other Wishes then please share with me in the comments.Would love to read your opinions.
Thanks.
Yes writing a blog post after a long period and from a new place.This is my first blog post from the city of joy-Kolkata.Hope that I will get time or will be able to make more time for me to write blog posts.Yes it is all about managing your time schedule,I do believe that no person in this world is so busy that he/she can't be regular in blogs or he/she can't date or hangout with friends.Its all about your wish and your eagerness.
I have joined a company,its my first job,trying to settle down in a new place.I am missing my home,my birth place,the pleasant weather of Siliguri, my friends and those hang outs with them in YMA,my all day long chatting and tweeting habits,my favorite TV shows and live cricket matches and the most I am badly missing my parents.But this is life you need to move on.Things which I am liking about me that I am getting along with new people very well which was lacking in me in last few years.I am lucky to have few friends here who hate to stay home in weekends 😛 .
Just came know this so true quote today

Those who have not yet accepted their own imperfections are the first ones to judge and criticize the faults of others.
Yes I am accepting my fault that I used to judge people too much that's why I failed to get along with new people.Really my dear friend stop judging people,this life is too small to judge people near you.If you keep judging the person near you when you will gel with that person?so stop judging people and get along.You don't have the rights to judge others and so do I.
Hope this "City Of Joy" has lot to offer me.I have only one life and I am trying to live it king size. 🙂
Thank you.
I am writing about yesterday and yes it was one of those when you fill touched,surprised,amazed by the fact a friend is there and that friend really remembered you and wished you in the auspicious occasion.Well I am not good with words and expressing my feelings as I am more a technical person (Girls reading this post don't you worry I am a full on romantic person 😛 ) but jokes apart,yesterday it was Holi (the festival of colors here in India) I have not played it but a friend really made my Holi special by remembering me and also by a token of friendship.
Well a friend of mine used to say that someone is your true friend when you met that person after ages and then you both just get along and without dragging on the fact that why you both were not in contact/not blaming and asking the other person why you were not maintaining the contact by any means.To me a person gonna be you true friend if at your first met or in your first phone call with him/her you get along very easily and started playing pranks  without any hell lot of introductory speeches.
and who said that you can't get good and real friends in virtual online world?2009(and also the starting of this year) was a year of getting very good friends for me .Came to know some(not much but yes few) amazing people through Twitter and Facebook and yes they are now my close friends in real life too.
If you read About me in this blog you will come to know I have very few friends and they always played a major role in my life.I know my good old friends are with me and but I also do hope that my few new friends which I got they would be also with me and they would get me whenever they need me.
Wishing you all Happy and Safe Holi.
Thanks for being my friend 🙂
My College friend Soumyadeep who is a massive football freak used to ask me Why I am not writing anything about Cricket here in Denken that time I told him that I will write but it would require a special moment.Well my close friends and family members know how Cricket freak I am.This my first Cricket post on my blog.Wrote a lot about me/Social networking sites/Tech topics but this is time just could not resist myself to write post about Cricket and about our Little Master SACHIN RAMESH TENDULKAR.Really it took a knock like that caliber from Sachin to get the Cricket side of me on my blog.
If you are regular Tweep then you should know that there is a #Tag for Sachin which is #SachinIsGod and its so true because If Cricket is religion in India then surely #SachinIsGod.
My Tweets:
#MyNameIs Sachin Ramesh Tendulkar and I am the greatest ODI player ever.
All Day I Dream About Sports(Adidas) is the perfect makers name for Sachin's bat.
Let me tell you why this knock is so special:
1.First ever double hundred in ODI.
2.Highest individual Score in ODI beating previous best of  Charles Conventry's(Vs Bangladesh) and Saeed Anwar's(Vs India) 194.
3.He ran through out his innings with out any runner.(Saeed Anwar used runner).
4.It was a perfect innings because no drop catches or no getting out in no balls etc.
5.Innings came against a top quality fielding and blowing side(ICC no 1 Rank bowler is in South Africa's squad).
Well previously we used to remember Sachin who gave as Titan cup by bowling in the last over,the guy who used to come in Shane Warne's nightmare,for his destructive innings at Sharjah,the most run getter in world cups but this knock is something special and which will remain in memory forever.It was a true fact that sometimes Sachin failed to come good in final but in recent times he played some match wining innings in finals,most recently his two crucial knocks in final helped us to win VB series,which is to me India's most important ODI tournament win in last decade.You have to admire Sachin's everything,Mostly his dedication towards game and his stamina to cop up with pressure.As Ravi Shastri said correctly Sachin is the most Greedy boy in cricket field.You just have to admire how Sachin came back after his Tenis elbow and back injuries(these two injuries almost ended his cricket carrier).At that time of  Tenis elbow Sachin once said that there is power is his elbow so its just that his dedication towards this great game that inspired him to come back with a bang.
Ending this with a hope that Sachin would get his 100th International century very soon and also that the stage:-"2011 world cup  final in his home ground" is all set for him to pick up the trophy for all of us Indian 🙂
Thanks.
Yesterday I got this all new Buzz in my Gmail.
You can follow me in buzz: http://www.google.com/profiles/aritra.slg
This is the third product from Google in a row after New Orkut and Google Wave.Recently Google also integrated real time Twitter updates in its search engine.So after Twitter integration,Google wave and now with Buzz you can say that Google trying hard to get into this real time business.
So what is this Buzz is all about?
Its a real time section which is integrated into you Gmail and it is mainly to share your status updates also your favorite links,images,videos with your friends.
Connected sites: Shared contents from Google Reader,Twitter updates,Image sharing sites like:Picasa and Flickr,Updates from your Blogger and You Tube accounts.
Following:Comes with same Twitter concept like you get the updates from people whom you are following.But here Buzz comes with auto following and also suggests you users to follow.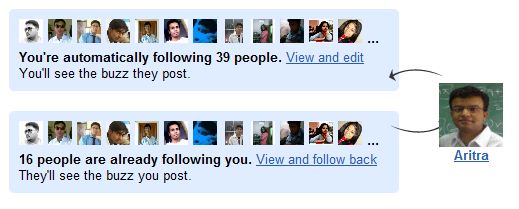 Private and Public sharing: You can share contents with either everybody or with your few selected friends i.e a group.You can create several Groups in your Google contacts.I prefer private settings for my Picasa and flickr accounts.
Comments and Like:You can comment under status updates and also can like any status update by pressing the like button.
@Reply or Tagging: Another concept from Twitter like you want to mention or tag any user or multiple users in status update area or in the comment section area.Just put @ then start typing the name you would get a drop down  for the list of users.
Inbox integration:Buzz just does not want you to miss any comments that is why it will give you notifications in form of mails in your Gmail inbox itself.I would have liked a different section for this notifications because cleaning up inbox every now and then is not my favorite work.
Mobile Support: iPhone users and Android users can access Buzz in their in their mobile handsets through Buzz.Google.com.Still no other handset supports Buzz.This is where buzz lacks.The main reason for Twitter's popularity was that at first Twitter targeted mobile users and it also allows you to update status through SMS which is still not available in Buzz.You can also post Geo tag enabled Buzz from Google Maps.
My verdict is that I like Buzz because I love sharing my status update,Links etc and Buzz looks to be a great sharing platform for us.
So do you like Buzz,Would you use it more regularly?Share your views in comments and do share with us which feature you like the most or what are the features you want to see in Buzz?
Thanks.
On January 27th Apple launched it's much awaited tablet iPad.It came after one year long speculations.It will be available in market from March(Still I don't have any idea when iPad would be available in India).Well that night when I was tweeting my timeline was only(almost) with Apple events live tweets and out of the top 10 trending topics there were seven related to iPad and ongoing Apple event.Later I came to know that there were 177,000 tweets in the first hour during the event.
Well Steve Jobs describes it as "Our most advanced technology in a magical & revolutionary device at an unbelievable price".They says that its 9.7″ touch screen tablet which is here to fill up the gap between Macbook and iPhone.
Let me first discuss about the price.There are 6 models like:
16GB:- $499(wifi) and $629(wifi+3G)
32GB:-$599(wifi) and $729(wifi+3G)
64GB:-$699(wifi) and $829(wifi+3G)
Here are features that you will get in iPad:
9.7″ LCD touch screen.
10 hours battery life(If you are playing video) and 1 month standby time.
Bluetooth.
In built web browser
Email client.
You tube client.
The screen has IPS(in plan switching) which helps to give better visual effects when you are not looking at it as a flat screen.
Model comes with 3G and Wifi facilities.
Photo viewer with geotagging and slide show features.
Inbuilt music player which is more likely to iTunes and also iTunes store.
Maps,Calender, Address book.
Movie plays with an aspect ration of 4:3.
Supports all iPhone applications and also you can synchronize iPhone and iPod with this iPad.
A paint application.
iBooks: Apples own ebook application.
iWork: Too build presentation and spreadsheets etc.
iPad can also be synchronized with projector and desktop.
Here are few features which are missing in iPad:
You can not do multitasking.
iPad does not have any USB port or SD slots.
No drag and drop of files.
No flash support.
No camera which is the most disappointing thing for me because it discards video chat/conferencing and you can't take pictures and upload it to facebook/flickr.
Wifi version doesn't have GPS and 3G is not with full GPS.
Though they says its to fill up the gap between Macbook and iPhone but I don't see its use if you have both a laptop and a smart phone.
Thanks
I had to put it like Orkut vs Facebook.It was about Orkut and Facebook but at last it turned into Orkut vs Facebook.Well this is coming from a series of discussion which took place in my facebook profile after I putted a status update as shown in the below image.
After that It got 62 comments and amount of information about social networking came from those comments are immense.So I thought that I should not waste those information in facebook and I should blog it here.I am sharing that not to run down anybody who participated there in that healthy discussion.Now I am putting all the informative comments(skipping which are not that informative) one by one:-
Kuntal Gupta:1 Fact i know is that facebook and myspace were way before orkut.
Bibhas Ch Debnath: Actually FB launched 13 days after Orkut launched. So, I dont think it took the ideas from Orkut(it 's not possible for someone to build FB in 13days). Anyone thinking that is thinking crap. And I'd also really protest on the point that Orkut's UI is better..
Aritra Sen:This is info- facebooks 1st named was facemash which was invented by mark zuckerberg on 28th oct 2003,then facebook named as thefacebook after that the final name is facebook and orkut launched on 22nd jan 2004.
Suman Paul: good info then u must have known that facemash was initially only for harvard university students and officially it was launched on feb 2004,,, actually he didn't know how to create a centralized website untill jan 2004, soon after orkut was launched
Bibhas: Tell SUMAN, that they of course knew how to create a centralized website. FaceMash was a college project. They perfected it into Facebook.
Aritra Sen: and speaking about UI do we get this b-e-a-utifull dropdown comment section in that New orkut which tried to copy facebook but forgot to copy the like button thingy? :-p
Nikhil Wad: I have used Orkut before but as my most of contacts use Facebook, am on FB now. Orkut I feel is used by max students also but on FB I feel its social and business networking too. My side FB gets +1
Bibhas: Actually FB is more Pro than Orkut. if I were to compare, I'd do FB to a Community hall and Orkut to a Open Street. And Not To Forget, Twitter is more like a Classroom.. 🙂
Jayeeta Sil:for me orkut +1………photo album privacy much better….. most of da time it fails….sum weird thng…it fails to work….i hv myself seen pics frm albums who claim to hv kept under locked settings…it dsn't happen wid orkut….
Aritra: opsiii in facebook you can do friend specific updates and i hope u know the recent facebook privacy policy and activated that.
for me orkut also +1 for photo sharing as i say orkut is just a photo sharing album for me nothing else to do there 😛
Aritra: Btw its not about facebook vs orkut (in that case facebook will anyday n always) its about is it true- facebook came later after getting the idea from orkut? and whose UI is better?
Nishant Vora: UI is always supposed to be judged by the simplicity and elegancy of it. That's why MySpace fails at times, because of all that bloated HTML on user's profile. Orkut maybe better at 'looks' with all those themes. Facebook has better features. Right now, if I favorite a video on Youtube, Digg a page, add something to delicious, update my blog, …upload new photos to flickr/photobucket, rate something on my last.fm, start using a new application on my PC (tracked via Wakoopa), and several other instances… All this is automatically shown on my FB profile. Also, I update my Twitter from anywhere.. my PC, mobile web, txt and the updates go to FB. There's an app on Orkut 'twitkut' but afaik it does not automatically update on its own. Nothing of that sort on Orkut. Orkut is simply.. 1 scrapbook. Fill 'er up with absolutely no thread facility to keep different conversations separately grouped. All Orkut could do to improve is allow comments on status updates in the 'new Orkut'. That still sucks, if you compare it to Facebook.
Nishant: But then again it goes down to how you use them. In my opinion, I do prefer the communities on Orkut better than FB, or maybe because I don't even visit any groups here. Or if people do not wish to keep this complexity of threaded messages, they can stick to Orkut for an all-in-one scrapbook.
At this point, there are 3 reasons a person might rant about FB, like whoever you mention in your status:
1) Narrow mindedness. Refusing to migrate to something new. It takes time to adjust, but it will only work out for you if you actively take interest in it….
2) They're ok with the simple features of Orkut as I said above.. Photos, 1 Scrapbook (to boast of that uber scrapcount which you can't on FB), and Communities.
3) They're dumb at everything Facebook has got to offer, they're an average Internet user, with no need of collaboration or resource sharing, what is easily done via Twitter and FB now, and not really feasible on Orkut. And since they don't get all this 'complicated stuff', they start to rant and complain at how it sucks and cloned and blah blah.
Suman:  hello to all, thats me whom aritra is referring to…
this all started when i said " orkut ir better"
anyways thanx for all of ur useful opinions…..everyone shared all pros & cons..but now u r diverting frm the topic..
now i would like to add a few things..
1 well as we all know that facebook was launched 13 days later than orkut,,but facebook was started on oct 13 2008 as facemash…then dont u think that orkut also must have taken some time to develope which i dont know, hence i'm considering at the launching date……
2 about the like button i didn't like it though
3 how a college student is supposed to know about how to create a centralized website.. that too 7 years back…
Nishant: I don't understand as to why you're adamant on sticking to arguing over who copied whom (even though it's pointless). Every service tries to implement some or the other trend from it's rivals, to keep going. If it doesn't, the users themselves will start complaining how a certain feature is available on one site, and not on the other. An example is…how Facebook copied tagging users in a post from Twitter. No one's going to rant over it being copied, rather welcome it for raising the communication bar on Facebook by collaborating via posts with upto 6 friends in a status (tag limit).
Tamoghno Karmokar: I agree that orkut have better interace.but facebook have better support with 3rd party apps and specially mobile.so using facebook is much easier. Just think about it , i upload a picture using flickr2twitter service using my phone's email client , it automatically appears on my friends twitter timeline and also appear on my facebook. Beat that orkut.
Aritra: @Tamoghno can you explain in what way Orkut has better interface?I know you are not a average Internet user and yes 3rd party apps like Tweetdeck/Hootsuite and we should not forgot about facebook's notification support for everything (now even you can reply from email notifications)
Tamoghno: by better interface i mean easier to understand. i still need to make people understand the concept of "wall" insted of "scrap". also more custimization option means its more confusing for average indian people. before customization , facebook looks somewhat blank and confusing to me.
Bibhas: According to the latest Source, The number of active FB user is more than 350 million, whereas Orkut has around 100 million users.. It seems to me that There are some reasons behind this, dont u think? or those extra 250million people are so Stupid that they cant understand User friendliness.. Sigh..
And also Twitter has only around 45 million users but the worldwide traffic in Twitter(14) faaaar more than Orkut(79).
Source:
http://en.wikipedia.org/wiki/List_of_social_networking_websites
Thanks.
Previously I wrote How to share in Orkut and recently I was thinking how to share my Google reader contents with my Twitter Followers as I love sharing with my friends what I know.Most of us use Google reader for feed reader.There may be so many ways you can share you reader contents in Twitter,But I got this Reader2Tweet technique which is a quite simple one so I am sharing this technique with you.
1.Open this Reader2Tweet page.
2.Sign in with your Twitter account(Oauth Authentication)
3.Then they will ask you for your Google Reader Number Id.Now how to get it?click the shared items button in reader.Then check your browser address bar,from there you can get the Id-as shown below.
Or you can get the Id in sharing setting in shared items.
4.You can also set the shared items format in your Tweets,now submit and share your reader contents in Twitter.Now when you wouldl share contents with your followers in reader(by pressing the share button)also a tweet would be sent to your Twitter account.
If you know better way than this then do share with us in comment section.
Thanks.