My last post about Android was How to root HTC Wildfire 2.2.1 and Install Cyanogenmod and I am so happy to see the response for this post.Glad to see that so many people have successfully rooted wildfire and now enjoying the power of Cyanogenmod using the guide.
Recently few of my friends started using Android phone and I believe this post would help them to gather information about useful Android apps and to get the most out of Android.
So I am sharing couple Android I use daily and productively(I am not including the pre installed applications that comes with stock rom and custom rom applications). Direct download links(From Google Play) are provided with Application name.
1. Advance Task Killer and Smart RAM Booster :  Though Android is working on improving the battery life with newer versions of Android OS but till 2.3 lesser battery life is an worry. These two apps can improve your phone's battery life significantly with it's background task killing capabilities.You need to enable automatic task killing in settings like for Advance task killer – set the auto killing frequency to  'when screen off '. Smart RAM Booster helps to speed up your phone, Do enable Auto Boost in the application settings.
2.1 click clear: Helps you to clear the Cache memory to speed up the phone operations and also cleans up the Residual files from SD card.
3.QuickPic: If your phone's default photo viewer or gallery operations are taking huge time then use this application for faster photo browsing.
4. Camera 360: My phone doesn't support Instagram photo sharing app , So I was  searching for a different photo enhancing and photo sharing application and I got this amazing camera app. Click the photo from this applications and then enhance the quality with different effects available(I love LOMO and RANDOM effects).
P.S: If your phone supports Instagram then use it.
5.TouchPal Contacts: You can easily replace your phone's default dialer with this applications for Fast contact search and also shows the registered location of phone number/operator name when someone calls you.
6. MightyText: Easily one of my most favorite Android application(helps me to tackle with my laziness while browsing :-p) .After installing this application in phone, install the chrome add in in your computer.Helps to receive and send sms from my chorme browser while I am browsing in my computer.This app also gives you call alerts right into your browser.
7. DoubleTwistPlayer and Mx Player : DoubleTwist is good alternative for your default music player and Mx Player plays almost all the video formats with the extra add ons.
8. WhatsApp: Well you can only get addicted to this application after you use.Becoming the most famous and easiest mode of text communication, from which you can also share contacts and other attachments.
9.Evernote:  Evernote lets you take notes(Like Addresses), capture photos, create to-do lists, record voice reminders–and makes these notes completely accessible from web, Computer and phone.
10.Swype: A must have applications for the WhatsApp and SSM addicts for faster typing.
11.TweetDeck ,Facebook ,FacebookMessanger ,Foursquare Social Networking applications.I use TweetDeck to simultaneously post in Twitter and Facebook.
12. Dropbox with DropSync: Dropbox with DropSync gives you the power true two way data synchronization for your phone with your computer.
13.Trillian: An excellent multi platform chat client , You can log into Gtalk, Facebook , YM etc at one go.
14.Wapedia: For faster searching of Wikipedia contents.
15.OperaMini Browser: The best alternative for your default browser that comes with Stock ROM.
16.IndRail: The best application to get information about Indian Railway(s) such as current PNR Status, Seat Availability, Fare Enquiry, Train Routes, and information of any train.
17.ThinkFree Office Mobile: Create, view, edit Microsoft office components and you can also view PDF files through this application.
18.CamScanner: Through this application you can scan multiple page documents and can upload any could storage like Dropbox.
In future If I come across more useful Android applications I will be adding in this list.
You can also share your applications by commenting below.
Yesterday I got this all new Buzz in my Gmail.
You can follow me in buzz: http://www.google.com/profiles/aritra.slg
This is the third product from Google in a row after New Orkut and Google Wave.Recently Google also integrated real time Twitter updates in its search engine.So after Twitter integration,Google wave and now with Buzz you can say that Google trying hard to get into this real time business.
So what is this Buzz is all about?
Its a real time section which is integrated into you Gmail and it is mainly to share your status updates also your favorite links,images,videos with your friends.
Connected sites: Shared contents from Google Reader,Twitter updates,Image sharing sites like:Picasa and Flickr,Updates from your Blogger and You Tube accounts.
Following:Comes with same Twitter concept like you get the updates from people whom you are following.But here Buzz comes with auto following and also suggests you users to follow.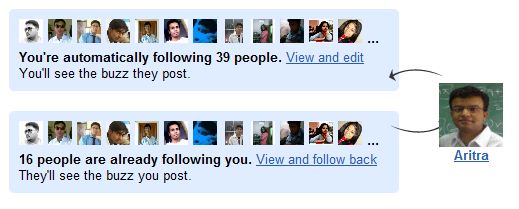 Private and Public sharing: You can share contents with either everybody or with your few selected friends i.e a group.You can create several Groups in your Google contacts.I prefer private settings for my Picasa and flickr accounts.
Comments and Like:You can comment under status updates and also can like any status update by pressing the like button.
@Reply or Tagging: Another concept from Twitter like you want to mention or tag any user or multiple users in status update area or in the comment section area.Just put @ then start typing the name you would get a drop down  for the list of users.
Inbox integration:Buzz just does not want you to miss any comments that is why it will give you notifications in form of mails in your Gmail inbox itself.I would have liked a different section for this notifications because cleaning up inbox every now and then is not my favorite work.
Mobile Support: iPhone users and Android users can access Buzz in their in their mobile handsets through Buzz.Google.com.Still no other handset supports Buzz.This is where buzz lacks.The main reason for Twitter's popularity was that at first Twitter targeted mobile users and it also allows you to update status through SMS which is still not available in Buzz.You can also post Geo tag enabled Buzz from Google Maps.
My verdict is that I like Buzz because I love sharing my status update,Links etc and Buzz looks to be a great sharing platform for us.
So do you like Buzz,Would you use it more regularly?Share your views in comments and do share with us which feature you like the most or what are the features you want to see in Buzz?
Thanks.
I had to put it like Orkut vs Facebook.It was about Orkut and Facebook but at last it turned into Orkut vs Facebook.Well this is coming from a series of discussion which took place in my facebook profile after I putted a status update as shown in the below image.
After that It got 62 comments and amount of information about social networking came from those comments are immense.So I thought that I should not waste those information in facebook and I should blog it here.I am sharing that not to run down anybody who participated there in that healthy discussion.Now I am putting all the informative comments(skipping which are not that informative) one by one:-
Kuntal Gupta:1 Fact i know is that facebook and myspace were way before orkut.
Bibhas Ch Debnath: Actually FB launched 13 days after Orkut launched. So, I dont think it took the ideas from Orkut(it 's not possible for someone to build FB in 13days). Anyone thinking that is thinking crap. And I'd also really protest on the point that Orkut's UI is better..
Aritra Sen:This is info- facebooks 1st named was facemash which was invented by mark zuckerberg on 28th oct 2003,then facebook named as thefacebook after that the final name is facebook and orkut launched on 22nd jan 2004.
Suman Paul: good info then u must have known that facemash was initially only for harvard university students and officially it was launched on feb 2004,,, actually he didn't know how to create a centralized website untill jan 2004, soon after orkut was launched
Bibhas: Tell SUMAN, that they of course knew how to create a centralized website. FaceMash was a college project. They perfected it into Facebook.
Aritra Sen: and speaking about UI do we get this b-e-a-utifull dropdown comment section in that New orkut which tried to copy facebook but forgot to copy the like button thingy? :-p
Nikhil Wad: I have used Orkut before but as my most of contacts use Facebook, am on FB now. Orkut I feel is used by max students also but on FB I feel its social and business networking too. My side FB gets +1
Bibhas: Actually FB is more Pro than Orkut. if I were to compare, I'd do FB to a Community hall and Orkut to a Open Street. And Not To Forget, Twitter is more like a Classroom.. 🙂
Jayeeta Sil:for me orkut +1………photo album privacy much better….. most of da time it fails….sum weird thng…it fails to work….i hv myself seen pics frm albums who claim to hv kept under locked settings…it dsn't happen wid orkut….
Aritra: opsiii in facebook you can do friend specific updates and i hope u know the recent facebook privacy policy and activated that.
for me orkut also +1 for photo sharing as i say orkut is just a photo sharing album for me nothing else to do there 😛
Aritra: Btw its not about facebook vs orkut (in that case facebook will anyday n always) its about is it true- facebook came later after getting the idea from orkut? and whose UI is better?
Nishant Vora: UI is always supposed to be judged by the simplicity and elegancy of it. That's why MySpace fails at times, because of all that bloated HTML on user's profile. Orkut maybe better at 'looks' with all those themes. Facebook has better features. Right now, if I favorite a video on Youtube, Digg a page, add something to delicious, update my blog, …upload new photos to flickr/photobucket, rate something on my last.fm, start using a new application on my PC (tracked via Wakoopa), and several other instances… All this is automatically shown on my FB profile. Also, I update my Twitter from anywhere.. my PC, mobile web, txt and the updates go to FB. There's an app on Orkut 'twitkut' but afaik it does not automatically update on its own. Nothing of that sort on Orkut. Orkut is simply.. 1 scrapbook. Fill 'er up with absolutely no thread facility to keep different conversations separately grouped. All Orkut could do to improve is allow comments on status updates in the 'new Orkut'. That still sucks, if you compare it to Facebook.
Nishant: But then again it goes down to how you use them. In my opinion, I do prefer the communities on Orkut better than FB, or maybe because I don't even visit any groups here. Or if people do not wish to keep this complexity of threaded messages, they can stick to Orkut for an all-in-one scrapbook.
At this point, there are 3 reasons a person might rant about FB, like whoever you mention in your status:
1) Narrow mindedness. Refusing to migrate to something new. It takes time to adjust, but it will only work out for you if you actively take interest in it….
2) They're ok with the simple features of Orkut as I said above.. Photos, 1 Scrapbook (to boast of that uber scrapcount which you can't on FB), and Communities.
3) They're dumb at everything Facebook has got to offer, they're an average Internet user, with no need of collaboration or resource sharing, what is easily done via Twitter and FB now, and not really feasible on Orkut. And since they don't get all this 'complicated stuff', they start to rant and complain at how it sucks and cloned and blah blah.
Suman:  hello to all, thats me whom aritra is referring to…
this all started when i said " orkut ir better"
anyways thanx for all of ur useful opinions…..everyone shared all pros & cons..but now u r diverting frm the topic..
now i would like to add a few things..
1 well as we all know that facebook was launched 13 days later than orkut,,but facebook was started on oct 13 2008 as facemash…then dont u think that orkut also must have taken some time to develope which i dont know, hence i'm considering at the launching date……
2 about the like button i didn't like it though
3 how a college student is supposed to know about how to create a centralized website.. that too 7 years back…
Nishant: I don't understand as to why you're adamant on sticking to arguing over who copied whom (even though it's pointless). Every service tries to implement some or the other trend from it's rivals, to keep going. If it doesn't, the users themselves will start complaining how a certain feature is available on one site, and not on the other. An example is…how Facebook copied tagging users in a post from Twitter. No one's going to rant over it being copied, rather welcome it for raising the communication bar on Facebook by collaborating via posts with upto 6 friends in a status (tag limit).
Tamoghno Karmokar: I agree that orkut have better interace.but facebook have better support with 3rd party apps and specially mobile.so using facebook is much easier. Just think about it , i upload a picture using flickr2twitter service using my phone's email client , it automatically appears on my friends twitter timeline and also appear on my facebook. Beat that orkut.
Aritra: @Tamoghno can you explain in what way Orkut has better interface?I know you are not a average Internet user and yes 3rd party apps like Tweetdeck/Hootsuite and we should not forgot about facebook's notification support for everything (now even you can reply from email notifications)
Tamoghno: by better interface i mean easier to understand. i still need to make people understand the concept of "wall" insted of "scrap". also more custimization option means its more confusing for average indian people. before customization , facebook looks somewhat blank and confusing to me.
Bibhas: According to the latest Source, The number of active FB user is more than 350 million, whereas Orkut has around 100 million users.. It seems to me that There are some reasons behind this, dont u think? or those extra 250million people are so Stupid that they cant understand User friendliness.. Sigh..
And also Twitter has only around 45 million users but the worldwide traffic in Twitter(14) faaaar more than Orkut(79).
Source:
http://en.wikipedia.org/wiki/List_of_social_networking_websites
Thanks.
Previously I wrote How to share in Orkut and recently I was thinking how to share my Google reader contents with my Twitter Followers as I love sharing with my friends what I know.Most of us use Google reader for feed reader.There may be so many ways you can share you reader contents in Twitter,But I got this Reader2Tweet technique which is a quite simple one so I am sharing this technique with you.
1.Open this Reader2Tweet page.
2.Sign in with your Twitter account(Oauth Authentication)
3.Then they will ask you for your Google Reader Number Id.Now how to get it?click the shared items button in reader.Then check your browser address bar,from there you can get the Id-as shown below.
Or you can get the Id in sharing setting in shared items.
4.You can also set the shared items format in your Tweets,now submit and share your reader contents in Twitter.Now when you wouldl share contents with your followers in reader(by pressing the share button)also a tweet would be sent to your Twitter account.
If you know better way than this then do share with us in comment section.
Thanks.
Well let me tell you first that this blog post is just because of my facebook status update and all the credit goes to Nishant and I am just sharing with you.This post is dedicated to the lazy people like me and Nishant 😛
Picasa is an awesome software from Google to manage pictures in your system and also to edit them.Facebook is the most popular social network to connect and share everything with your friends and Flickr as they say "Flickr is almost certainly the best online photo management and sharing application in the world"
Well if you are lazy like me you can upload the photos from Picasa to facebook and in flickr.For this you need go through few steps:
1.Acess Picasa in your system if you don't have Picasa then download Picasa here.
2.Scan your system with Picasa for images.
3.In Picasa download and install facebook plugin and flickr plugin.
4.After installation you will get facebook and flickr button in Picasa
5.Now select the photos and and press facebook/flickre buttons to upload.First they would ask you to login and the to select album or create new album.
Twitterholic tweeps check this flickr2twitter so that you upload photos to flickr from Picasa and it would redirect to your Twitter profile.
What is disappointing is that though Orkut is from Google there are no plugins to upload photos in your orkut profile from Picasa.You can upload photos in orkut scraps the photos which you have uploaded in your Picasa web profile.
Thanks.