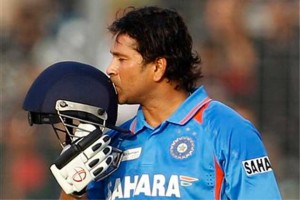 Note: This is a Guest Post by a very good friend of mine Alapan Ghosal last night he sent me this post.I am just posting this on the behalf of him.Here it goes:
Sachin's 100th 100.Last year for an Indian cricket fan has been frustrating by part & dismal for the rest of it.
We have been pounded & grounded into submission by a couple of teams we have had thoughts of beating,if not easily then by some perspiration but the ugly truth has been clubbed repeatedly & painfully over our heads over the whole of last year.
Now we stand duly chastised & humbled,by the virtue of our teams performance While in midst of this travesty lies the mysteries of Sachin's 100th 100.
Why couldn't he get it over a period of 365 days??
Why couldn't he pound the Aussies & the poms??
why did he get out repeatedly making silly mistakes or Why did the balls get better of him…..
Probably if he would have had the 100th against either Aussies or the poms we would have had consoled ourselves that our hero defied the opposition & his teammate's mediocrity & rose above it.But as things stand we have been stripped of even this consolation.
Our hero has been repeatedly struggled to put bat on ball & found ways to get out the last of which involved trying to flick Malinga of his pads from closer to middle than leg.He started both the tours with decent form & got a few middling scores with amazing regularity & just when the stage seemed to be set for him,got out.
I don't know why he got out & I don't particularly care much.
But I would like the Sachin of old to make a comeback where nothing seemed impossible.Where he could make me smile exclaim & sigh over a coverdrive where he could right all the wrongs of the day.I would like him to treat every bowler as Henry Olonga(remember Sharjah 97 I think you can)
I would like him to pummel every opponent.I would like him to be my childhood hero again….
I would like him to be best batsman on current form ever & always….
I would like him to be grim determined & victorious….
When even hardened pros like Mcgrath & Warne had to clap when he made them look foolish….
I would like him to be the guy for whom bunking classes & a punishment didn't matter much for a student….
I would like him to chase all the dreams that have  remained unfulfilled among billions of us….
Yes I admit, I would like the boy from Sharadashram Vidyamandir to appear as good for each & everyone of us and today he finally managed to scale the statistical impossibility a century of centuries….
Where he scored practically flawless 114 runs from 147 deliveries,but it didnt give me much satisfaction,where he slowed down after 80,where he struggled to get gaps,where he was made to perspire by a pedestrian attack,where inspite of being best batsman on show,He cost us 20 runs.
Before he makes a final bow & before a curtain drops over innocence.I would like my hero to comeback once again just for a last glimpse the men who made everyday worth it.Three of the golden age have already gone taking a part of my childhood with them.Men of tremendous dignity honour & commitment who made cricket worth watching.Men whom you & I miss everyday but I wud like to see him at his very best just once before he goes.I would like him to punish a full length delivery by drilling it straight past the bowler.I would like him to be God of all batsmen who ever came & of all those who are yet to come.Just before he goes off into the sunset, just once,I wud like him to be my childhood hero yet again.
Image Courtesy: Cricketnext.in.com
My College friend Soumyadeep who is a massive football freak used to ask me Why I am not writing anything about Cricket here in Denken that time I told him that I will write but it would require a special moment.Well my close friends and family members know how Cricket freak I am.This my first Cricket post on my blog.Wrote a lot about me/Social networking sites/Tech topics but this is time just could not resist myself to write post about Cricket and about our Little Master SACHIN RAMESH TENDULKAR.Really it took a knock like that caliber from Sachin to get the Cricket side of me on my blog.
If you are regular Tweep then you should know that there is a #Tag for Sachin which is #SachinIsGod and its so true because If Cricket is religion in India then surely #SachinIsGod.
My Tweets:
#MyNameIs Sachin Ramesh Tendulkar and I am the greatest ODI player ever.
All Day I Dream About Sports(Adidas) is the perfect makers name for Sachin's bat.
Let me tell you why this knock is so special:
1.First ever double hundred in ODI.
2.Highest individual Score in ODI beating previous best of  Charles Conventry's(Vs Bangladesh) and Saeed Anwar's(Vs India) 194.
3.He ran through out his innings with out any runner.(Saeed Anwar used runner).
4.It was a perfect innings because no drop catches or no getting out in no balls etc.
5.Innings came against a top quality fielding and blowing side(ICC no 1 Rank bowler is in South Africa's squad).
Well previously we used to remember Sachin who gave as Titan cup by bowling in the last over,the guy who used to come in Shane Warne's nightmare,for his destructive innings at Sharjah,the most run getter in world cups but this knock is something special and which will remain in memory forever.It was a true fact that sometimes Sachin failed to come good in final but in recent times he played some match wining innings in finals,most recently his two crucial knocks in final helped us to win VB series,which is to me India's most important ODI tournament win in last decade.You have to admire Sachin's everything,Mostly his dedication towards game and his stamina to cop up with pressure.As Ravi Shastri said correctly Sachin is the most Greedy boy in cricket field.You just have to admire how Sachin came back after his Tenis elbow and back injuries(these two injuries almost ended his cricket carrier).At that time of  Tenis elbow Sachin once said that there is power is his elbow so its just that his dedication towards this great game that inspired him to come back with a bang.
Ending this with a hope that Sachin would get his 100th International century very soon and also that the stage:-"2011 world cup  final in his home ground" is all set for him to pick up the trophy for all of us Indian

Thanks.
Sorry to disappoint you first, after reading this you will not have a place where you can go and celebrate events. I will blog about  a virtual place where you can always stay, enjoy and celebrate any event like we did in children's day.I am talking about Twitter. On 14th of this month we Tweeps celebrated the Children's Day by changing our DP i.e our profile's Display picture to our sweet cute little kid picture. My timeline of Twitter was filled with all cerelac baby tweeps . It was a great feeling. It was like going back to your childhood with the help of 'TwitterTimeMachine'.
The Day Sachin scored 175 against I was traveling in train that time the only thing I was having to know about the Score and match updates was my Twitter timeline. I know it's not better than watching the match live on TV but trust me it was better than any TV commentators commentary or going through any other live cricket score site. Because of all those tweets #Sachin or #SachinIsGod became the no-3 trending topic in Twitter.To me It was a great tribute from all Sachin's fan. To my knowledge there is no other celebrity or Indian person even came close to reach trending topics. Another instance which is coming to my mind is our Independence Day that day my timeline was flooded with all India tweets and India was in the top 10 trending topics.
Twitter is one gem of a place to celebrate and share along with your followers. When I am in this place I never feel lonely or lack of friends. Thanks to Twitter I came to know so many beautiful people through Twitter….Twitter you beauty.
Thanks.