As its saying below "sharing is caring".It really is.Sharing your favorite web contents in a social network is a cool thing.It spreads the knowledge among your friends also makes you a constant source of knowledge to your friends in social networks like Twitter,Facebook,Orkut.If you are sharing contents of your friends blog then you are also helping your friend,giving his/her blog/site a good traffic.So do share your favorite web contents with your friends.
Well this sharing thing is mainly associated with social sites like Facebook,Twitter etc and not with Orkut.But with New Orkut now you can easily share web contents with your Orkut friends.To share easily you need to put a bookmark in your bookmark toolbar.To get the link for bookmark open this link and you will get the code for different browsers.Just drag and drop the icon(showing below) to your bookmark toolbar.
after this go to the page you want to share in Orkut then press the Orkut share button in your bookmark toolbar it will redirect to the to the share conformation page like below.After that check your profile.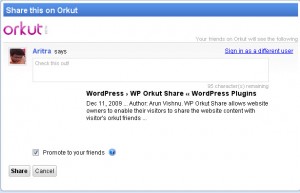 Here are some Plug in for wordpress users to enable orkut share in their blog Orkut Share and SexyBookmarks
Thanks.