Well my favorite Twitter/Facebook desktop application is TweetDeck.To me this is the best desktop application mainly for Twitter because of its simple interface and also it is faster than any other desktop Twitter applications.The version 0.32.1 comes with so many extra features like its integrated the new retweet feature,LinkedIn account etc.You can also add your other accounts as shown below.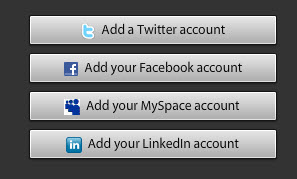 Actually when I recommendTweetdeck to my friends they ask why it is so slow so this post this post is just for them and mainly who are using slow internet connection.You can easily make TweetDeck fast with some manipulation in settings.Here are few techniques:-
1.Always try to login in Tweetdeck with less columns like I login with two columns-Twitter home timeline and Twitter mentions after loading these columns I add other columns like Twitter list,facebook columns etc.This technique assures faster login into TweetDeck.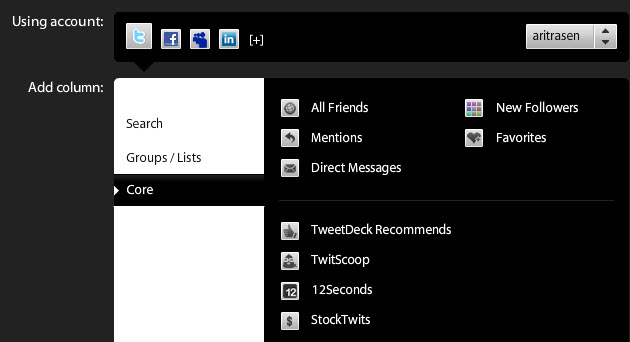 2.Hide the previously loaded updates/direct messages this also assures faster login after restart.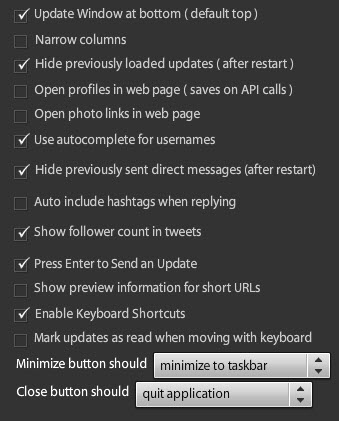 3.If you enable the use auto-complete for user names you don't have to remember the user handles.When you will press @ then the search list for users will come out.
4.For faster loading at the start you need minimize the max no of updates per API call and in a column as your requirements.
5.Before logout or closing the application press the mark all as seen button.
6.When you will paste a huge link in update area it would be shortened automatically.You can also share pictures just by uploading the pictures with drag and drop in the updates status area.
I hope this would help you.Please add your suggestions and your doubts in comments.
Thanks.