Well I am a big Android fan boy , most of the posts in my blog are related to Android. It was last year when I decided to buy low budget Windows Phone Nokia Lumia 520 to try out Windows Phone. As the days went by my experience with Windows Phone was not up-to the mark (As an Android user will always feel). Recently my Lumia 520 received Windows 8.1 OS update.This update is quite impressive and brought some of the required features which was missing in Windows Phone 8.Here I will take you through couple of new features that Windows Phone 8.1 brings supported by Lumia 520.
1.Action Centre and Notifications:With this 8.1 update Microsoft brought most awaited feature i.e. Action Centre which allows    
users to get the Notifications related to calls , SMS , WhatsApp , E-Mails , IM Notifications.
Actions Centre also gives quick access to Wifi Setting , Blue Tooth , Flight Mode  and Auto Rotation lock options. This actions are also customizable.
From Home Screen you can easily access Action Centre with easy swipe down gesture which similar to Android or iOS feature.
For every specific apps you can turn on or off notifications, you can also choose whether to see banner alerts at the top of the screen or not.
2. New Word Flow Key Board:  Well in Android we can easily download and install custom Key Boards like Swype , SwiftKey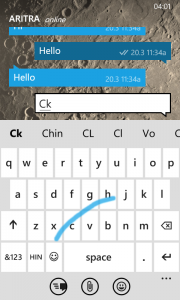 KeyBoard. I always thought that a combination of Swype (where the user enters words by sliding a finger or stylus from the first letter of a word to its last letter)  and SwiftKey Board (that delivers the best next-word prediction, smarter autocorrect) would be the best.
In Windows Phone you will not get the choice of downloading custom keyboards but with Windows Phone 8.1 update the inbuilt keyboard is quite powerful , which I believe has both the features of Swype and SwiftKey. I am quite impressed with Word Flow Keyboard's next word prediction and it almost every time gives you the correct prediction of next word.
Microsoft claims that the Word Flow Keyboard is one of the 'most intuitive smartphone keyboards' and learns from users writing style and the WordFlow key board supports 16 languages.
3. FM Radio: In Windows Phone 8.1 update Microsoft updated the FM Radio app , now the app is longer present under the Music App & it can be accessed as a standalone app. Microsoft also added switch to speaker settings by which you can listen to the Radio through speakers also.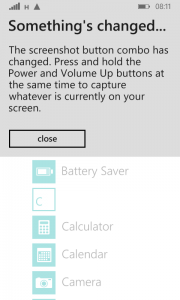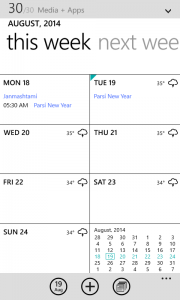 4. Screenshot Capture Option: Now you have to press Volume Up + Power Button to capture screenshot.
5. Calender App Updated: In Built Calender App has been updated/redesigned (with Google and other calender support) and now it has impressive features and views.The App shows a week view, along with a weather widget which has been integrated into the Calendar app. It will show at the top & app also allows you to select day/month/week/year view.
6. Themes, Home Screen Back ground & Tiles:  With this update now you change the background image of the start screen , You can change the size & number of titles available in your start screen.
The other great customization feature is the option to set up custom backgrounds for the lock screen. Small, but totally needed feature to make Windows Phone truly personal.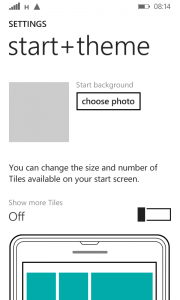 7. Skype Integration: With WP 8.1 update the new Skype app for Windows Phone 8.1 comes with dialler integration that allows a user to switch a regular call to a Skype video call with a click of a button.
Couple of  other Key updates in Windows Phone 8.1: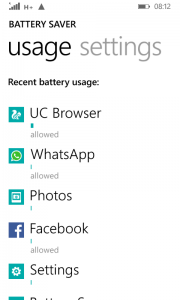 Battery Saver App to monitor which apps consumes how much battery.It also has app exclusion list.
Though in Lumia 520 Cortana app is not available but according Microsoft this is the next big thing.This App is similar to Android's Google Now or iPhone's Siri.This App is powered by Bing.
Comes with Internet Explorer 11 with improved features for browsing.
Contact List sorting with those with Phone Numbers , Call Duration feature.
Separate volume controls for ringtones/notifications and music/media.
Built in VPN support.
New Re-design for Store.
Facebook app comes with OS, updates independently, hooks into OS.
Redesign for Camera App with Burst Mode.
One thing that I love about Windows phone that after any OS – Update your phone remains the same with all the old data , contact , apps which is not like Android OS update where the phone goes through a complete formatting.
Thanks,
Aritra