Well let me tell you first that this blog post is just because of my facebook status update and all the credit goes to Nishant and I am just sharing with you.This post is dedicated to the lazy people like me and Nishant 😛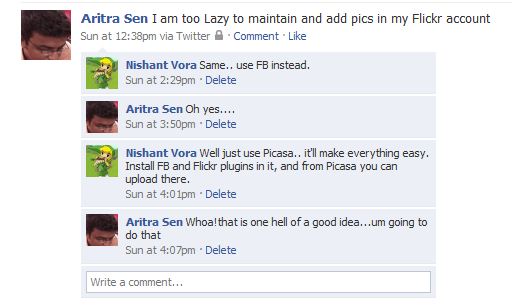 Picasa is an awesome software from Google to manage pictures in your system and also to edit them.Facebook is the most popular social network to connect and share everything with your friends and Flickr as they say "Flickr is almost certainly the best online photo management and sharing application in the world"
Well if you are lazy like me you can upload the photos from Picasa to facebook and in flickr.For this you need go through few steps:
1.Acess Picasa in your system if you don't have Picasa then download Picasa here.
2.Scan your system with Picasa for images.
3.In Picasa download and install facebook plugin and flickr plugin.
4.After installation you will get facebook and flickr button in Picasa
5.Now select the photos and and press facebook/flickre buttons to upload.First they would ask you to login and the to select album or create new album.
Twitterholic tweeps check this flickr2twitter so that you upload photos to flickr from Picasa and it would redirect to your Twitter profile.
What is disappointing is that though Orkut is from Google there are no plugins to upload photos in your orkut profile from Picasa.You can upload photos in orkut scraps the photos which you have uploaded in your Picasa web profile.
Thanks.