Yesterday I got this all new Buzz in my Gmail.
You can follow me in buzz: http://www.google.com/profiles/aritra.slg
This is the third product from Google in a row after New Orkut and Google Wave.Recently Google also integrated real time Twitter updates in its search engine.So after Twitter integration,Google wave and now with Buzz you can say that Google trying hard to get into this real time business.
So what is this Buzz is all about?
Its a real time section which is integrated into you Gmail and it is mainly to share your status updates also your favorite links,images,videos with your friends.
Connected sites: Shared contents from Google Reader,Twitter updates,Image sharing sites like:Picasa and Flickr,Updates from your Blogger and You Tube accounts.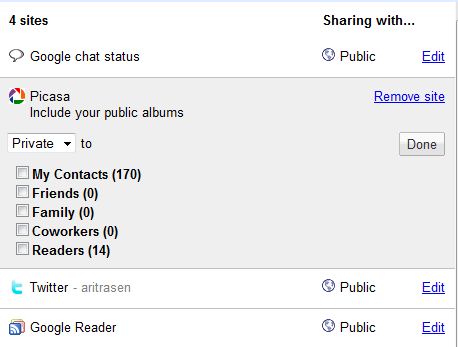 Following:Comes with same Twitter concept like you get the updates from people whom you are following.But here Buzz comes with auto following and also suggests you users to follow.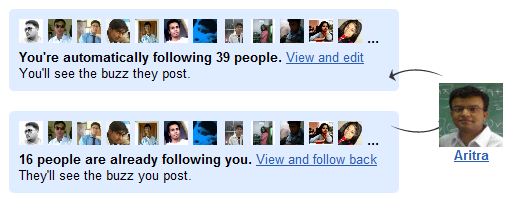 Private and Public sharing: You can share contents with either everybody or with your few selected friends i.e a group.You can create several Groups in your Google contacts.I prefer private settings for my Picasa and flickr accounts.
Comments and Like:You can comment under status updates and also can like any status update by pressing the like button.
@Reply or Tagging: Another concept from Twitter like you want to mention or tag any user or multiple users in status update area or in the comment section area.Just put @ then start typing the name you would get a drop down  for the list of users.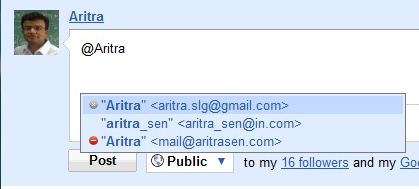 Inbox integration:Buzz just does not want you to miss any comments that is why it will give you notifications in form of mails in your Gmail inbox itself.I would have liked a different section for this notifications because cleaning up inbox every now and then is not my favorite work.
Mobile Support: iPhone users and Android users can access Buzz in their in their mobile handsets through Buzz.Google.com.Still no other handset supports Buzz.This is where buzz lacks.The main reason for Twitter's popularity was that at first Twitter targeted mobile users and it also allows you to update status through SMS which is still not available in Buzz.You can also post Geo tag enabled Buzz from Google Maps.
My verdict is that I like Buzz because I love sharing my status update,Links etc and Buzz looks to be a great sharing platform for us.
So do you like Buzz,Would you use it more regularly?Share your views in comments and do share with us which feature you like the most or what are the features you want to see in Buzz?
Thanks.